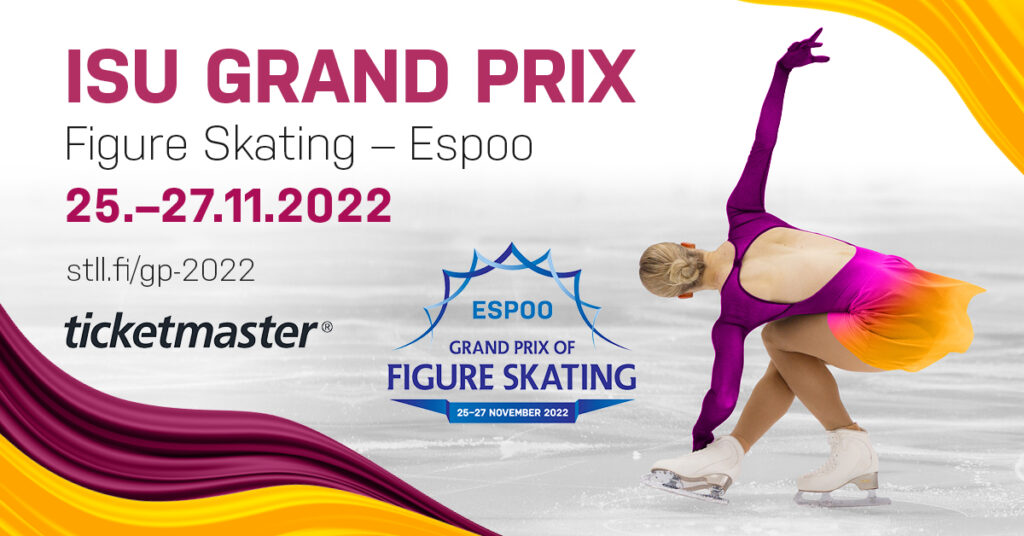 All Event ticket sale for the event starts on Monday, July 18th, 2022 at 10 am (EET). Get your All Event tickets and join us at Metro Areena to enjoy the stunning performances of the worlds best figure skating stars.
Ticketmaster is the official ticketing services provider of the event.

Single event ticket sale will start on August 9th at 10.00.

All Event -tickets (incl. 8 competitions, practices and Exhibition Gala)

| | |
| --- | --- |
| Premium | 395 € |
| Ice Level | 335 € |
| Balcony 1 | 210 € |
| Balcony 2 | 120 € |
Event Tickets

Friday 25.11 SET 1
PAIRS – Short Program
WOMEN – Short Program

Premium
90 €
Ice Level
70 €
Balcony 1
50 € / children 25 €
Balcony 2
30 € / children 15 €
Friday 25.11 SET 2
MEN – Short Program
ICE DANCE – Rhythm Dance

Premium
110 €
Ice Level
95 €
Balcony 1
65 € / children 25 €
Balcony 2
35 € / children 15 €
Saturday 26.11 SET 1
PAIRS – Free Skating
WOMEN – Free Skating

Premium
110 €
Ice Level
95 €
Balcony 1
65 € / children 25 €
Balcony 2
35 € / children 15 €
Saturday 26.11. SET 2
MEN – Free Skating
WOMEN – Free Dance

Premium
110 €
Ice Level
95 €
Balcony 1
65 € / children 25 €
Balcony 2
35 € / children 15 €
Sunday 27.11.
EXHIBITION GALA

Premium
80 €
Ice Level
60 €
Balcony 1
40 € / children 25 €
Balcony 2
20 € / children15 €
Please note: This schedule is subject to changes